Day of the Dead. In this holiday focuses on the gathering of families and and friends in praying to remember family and friends that have died.
Here at the design hub we are working on a seasonal project for this special holiday.
The project began October 1 and will continue until November 2, when the Day of the Dead officially ends.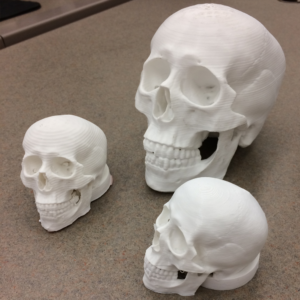 They are making a small scaled skull to sell at the bookstore for approximately one dollar per skull.
This creative idea was suggested by one of our amazing interns Erika Gonzales. Who thought of this project due to a previous project  "Bobble-head Project".
The bobble-head project is about peoples heads getting scanned by the 3D scanner by the 3D scanning interns here at the Hub. Making it into amazing scanned heads for bobble-heads.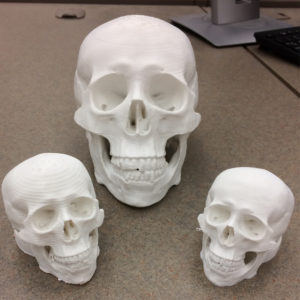 The project inspired the idea for this project to create skulls using the same method as the bobble-heads.
First, a full sized skull that Erika brought in was scanned. Next they 3D printed this life sized skull. Now, Smaller Scale skulls are in the progress of being created , Then painted by the Artist team.
The artist team consist of : Erika, Summer and Regan. 
Currently, the artist team is finding a location to sell these 3D scanned and printed skulls at any local Day of the Dead Event.
Future development from this project includes making the skulls into bobble-heads, earrings, and charms for people to make their own jewelry from them such as necklaces and bracelets.
Final step of this project is to paint and seal the skulls  in the paintwork with a special sealant that prevents any staining.  
Then the skulls will be all ready for selling!