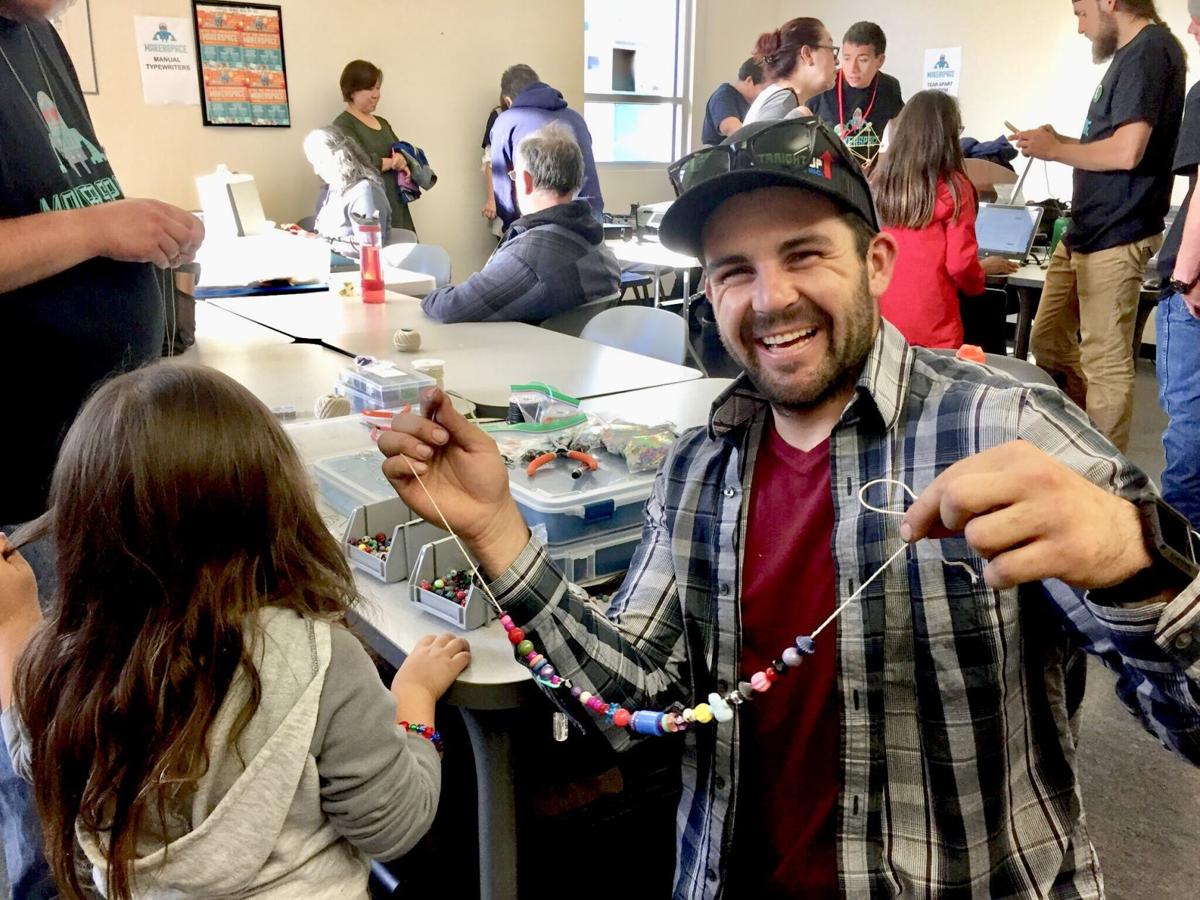 Santa Maria, California–recently, the Central Coast Makerspace: A Northern Santa Barbara County Collaboration received a write up in the Santa Maria Times.  The article provides an excellent illustration of Allan Hancock College's main community of practice, and provides a fantastic jumping off point to discuss the origins, trials and successes of our collaborations.
Background:
From our planning phase, the three principle collaborators for our shared Makerspace have been us, Allan Hancock College, the Santa Maria Valley Discovery Museum, and the Santa Maria Public Library.  It was a perfect example of design thinking–we had reached an impasse in trying to find space on campus for our Makerspace, the Discovery Museum and the Library had space but required skilled workers, guidance, and start up funds to develop their own Makerspaces.  From them, we have the spaces from which our Makerspace could grow (which we have since moved into our Project Director Bob Mabry's classroom), and we were able to supply the rest.  The level of engagement and support from our collaboration partners has been phenomenal, and from this relationship we have been able to impact a far greater segment of our community then we would have been able to by ourselves.
Challenges:
The Central Coast Makerspace has certainly broken new ground for all of our community partners.  In creating an inter-agency collaborative agreement, we did not foresee how impactful each entities' governing body would be in how we interact.  For example, the Library must adhere to the policies and protocols put in place by the city of Santa Maria–this means that our original sub-recipient agreement had to be amenable to our college's business office, the fiscal agent for the CCC Maker Grant, and the city's legal council.
Related to governance, the hiring process itself can be slow and cumbersome, resulting in a need for our community partners and ourselves to need to truncate our original timelines to adhere to our work plan.  At Allan Hancock, it took us a several months to get our grant coordinator position (which we had budgeted for in our work plan) approved, posted, and hired–I am sure that our community partners experienced similar resistance in their governing bodies.
Successes:
The reach of our project has been simply astounding.   Through the Discovery Museum and the Public Library, we made inroads and connections to the various K-12 school districts in the Northern Santa Barbara County area.  Thanks to our student interns working at various Makerspaces hosted by our collaborators, our visibility in the community has grown by leaps and bounds.  We have been contacted by industry partners, entrepreneurs, and community groups who are interested in our Makerspace.  The newspaper article at the start of this post really would not have been possible without our community partners.
The community of practice we have will also be paramount in making the Central Coast Makerspace model sustainable.  We have started to discuss methods by which to generate revenue once the grant has ended, and we believe that the number of people that we have touched with this project will be our saving grace.  We have heard nothing but positive messages from the community, who are thankful and overjoyed that we are providing a space to make.  Whether its a membership model, fundraising campaign, or a hybrid method, we will have our community of practice to help us remain fiscally viable.